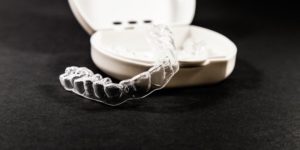 Now you can get orthodontic treatment done without anyone noticing thanks to clear aligners from Invisalign. While clear aligners are designed to be transparent, it doesn't mean you won't need to clean them regularly. Food particles and bacteria can easily gather and form plaque on your clear aligners, affecting their appearance. That's why your Chesterfield dentist wanted to provide you a few tips to keep them clean and transparent during your treatment.
Keeping them clear is easy once you know the steps. Keep reading to learn how today!
Make Cleaning Your Aligners Part of Your Routine
The best time to clean your clear aligners is the same time you brush and floss. Before brushing, rinse your aligners and place them into your Invisalign container. Then, brush and floss as you normally would. Leaving saliva on your aligners only creates a breeding ground for bacteria, so make this the first step of your oral care regimen.
According to your Chesterfield dentist, brushing and flossing isn't just important to keeping your teeth free of decay and avoiding gum disease. Since the aligners are designed to fit around your teeth tightly, any food particles that are trapped in between your teeth can increase your chance of dental issues later. They can also affect your teeth's ability to shift during treatment.
Use the Right Tools and Technique
The best way to clean your clear aligners is to let them soak in either a denture cleaner or with official Invisalign cleaning crystals. These products keep your aligners clear and sanitized. Let them soak while you brush and once you finish, gently brush them using a soft, anti-bacterial soap. Avoid using scented or colored soaps as this will affect the hue of your aligners; plus, you'll get an undesirable aftertaste.
When brushing your clear aligners, use a dedicated, soft-bristled, toothbrush for removing plaque and saliva. Don't use toothpaste or brush too vigorously. If you scratch your clear aligners, food and plaque can more easily get caught in them and cleaning them will become more difficult.
Avoid Habits That Damage Your Aligners
Whenever wearing your clear aligners, avoid eating, chewing gum, or drinking any fluids besides water. Many foods can stain the outer part of your aligners and make them stink as you wear them throughout the day. When you do eat, make sure that your aligners are inside their dedicated case. The last thing you want to do is accidentally throw them away with the trash from your meal.
Additionally, don't leave your aligners exposed to open air when not in use. This only exposes them to harmful germs and bacteria in the air. Always remember to rinse, soak, and rinse again before placing back into your mouth.
Want to learn more tips on making your Invisalign clear aligners last? Schedule an appointment with your dentist in Chesterfield today!
About the Author
Dr. Jeff Yenzer earned his Doctor of Dental Surgery degree from the University of Missouri in Kansas City. To make orthodontic treatment easier, he offers consultations for patients interested in using clear aligners from Invisalign. If you're interested in realigning your teeth or fixing your bite, contact him at (636) 778-3019 or visit his website.