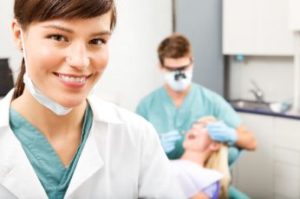 According to a study reviewed in the New York Times, medical doctors interrupt patients describing their symptoms after a mere 18 seconds. Thankfully this situation is much different in a dental office! When you get your checkup and cleaning you have a full hour to talk with your hygienist and dentist in Chesterfield. They can spend much more time than an MD discussing your oral health and understanding your concerns.
In particular, since your hygienist has spent so much time with you at each visit they have a unique perspective on the health of your gums. That puts them in a great position to answer any questions you have and work with you on your hygiene habits. But what should you ask? In this blog, we'll give you some examples of questions to ask so that your checkups are as valuable as possible.
How Do My Gums Look?
Periodontal (gum) disease is one of the most common diseases in the U.S. It can put you at risk for tooth loss because the gums and underlying bone are what support your teeth and keep them in place – if they're not healthy the teeth can become loose.
What's more, many studies have shown that gum disease can increase your risk for heart disease, stroke, diabetes, pregnancy complications and more.
Can You Help Me With My Technique?
Your hygienist is an expert on brushing and flossing. Sometimes even small tweaks in how you hold your brush can make a big difference in how effective you're being.
Similarly, good flossing technique will remove a lot more plaque from under your gumline and in between your teeth. If you're spending the time doing it, you may as well get as much benefit as possible!
They can also recommend various tools that can make the job easier, like electric toothbrushes, floss picks and oral irrigators.
Do You Think I'm Cavity-Prone?
Although your family dentist in Chesterfield will tell you if you have cavities or not, your hygienist will be able to tell you if you have risk factors for decay.
These factors can include things like dry mouth, diet, or crowding that makes it difficult to access everything with your toothbrush. They can also give you suggestions for how to address these factors and reduce your risk.
How Can I Whiten My Teeth?
In addition to being able to explain your whitening options, your hygienist can review ways to keep your smile it's brightest after you've whitened. Not to mention that whitening right after a professional cleaning is an ideal time.
Remember, knowledge is power – especially when it comes to your oral health!
About the Author
Dr. Jeff Yenzer makes professional excellence a priority. From graduating from dental school with honors to pursuing extensive advanced education, he goes the extra mile to provide his community with outstanding dental care. In addition, he always helps you get the most from each visit by making sure he understands your concerns. He can be reached for questions via his website or at (636) 778-3019.