Cost of Dental Implants – Chesterfield, MO
Factors to Know for Tooth Replacement
Dental implants generally cost more overall compared to more traditional forms of tooth replacement. Due to the level of customization they offer, the price is typically higher, but keep in mind that no other treatment offers the same benefits. With that said, we understand if you don't understand the most influential factors in your dental implant treatment. You can read more about these differences below or call Dr. Yenzer to schedule an implant consultation. Either way, we're happy to explain the cost of dental implants in Chesterfield, MO in greater detail, so you can begin treatment without surprises.
Types of Dental Implants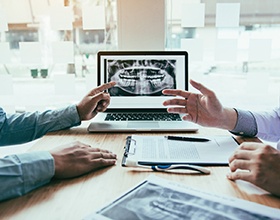 One of the most notable factors in determining dental implant cost is the type of implant used and the number of implants that need to be placed to restore your smile. For example, if you only need to replace a single tooth with one dental implant, you can expect to pay significantly less than someone who needs to have four to six implants placed so they can hold a full-blown denture. Once we complete a detailed examination of your mouth and determine which teeth need to be replaced, we can give a better idea of what your final costs will be.
What are the Stages of Dental Implant Treatment?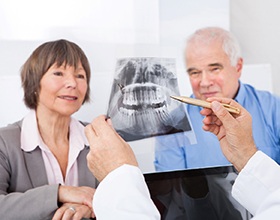 Dental implant treatment is not just a single treatment. In fact, it's a series of treatments that are performed over a period of time. This includes the surgical placement of the implants, the potential addition of an abutment (which provides extra stability to the restoration), and the placement of the restoration itself (which could be a crown, bridge or denture.) During your consultation, we can confirm if you need to have preparatory treatments completed, including bone grafts, periodontal (gum) therapy, or another procedure designed to restore your oral health or the condition of your jaw bone.
Are Dental Implants Worth the Investment?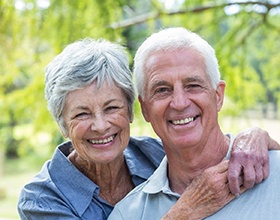 Time and time again, patients who receive dental implants say they are absolutely worth it for a few key reasons, even though they are generally more expensive. One of the most often cited reasons they love their dental implants is due to the longevity they provide. While other options like bridges and dentures require periodic replacement, dental implants are designed to withstand the test of time (i.e. 30 years or longer.) Additionally, patients appreciate the minimal maintenance that comes with dental implants (which largely requires simple brushing, flossing and routine exams and cleanings.) Furthermore, most patients end up paying less in the long-term because of how reliable dental implants actually are.
Does My Dental Insurance Cover Dental Implants?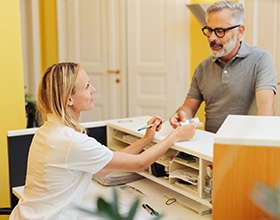 In most cases, dental implants are not covered by dental insurance plans. With that said, that doesn't mean you can't use your insurance benefits to cover other aspects of care. This includes periodontal therapy, the initial consultations to determine eligibility for dental implants, and even the restorations used to cover them. While we are in-network with many dental insurance providers, we also offer third-party financing and a Smile Advantage Program for more manageable payment plans and potential discounts! Our goal is to make your treatment as affordable as possible so you can focus more on transforming your smile!