Benefits of Dental Implants – Chesterfield, MO
The Advantage of Replacing Teeth from the Roots Up
Whenever you lose a tooth, you may have multiple replacement options to consider. Dental bridges and partial dentures can be used to replace individual or multiple teeth while full dentures are meant to replace the entire upper or lower arch. All of these restorations have their own benefits, but if you want to get the most out of them, you'll want to anchor your new teeth to dental implants in Chesterfield. Dr. Yenzer has extensive training in dental implants and has used them to create many a healthier, stronger smile. If you're still deciding whether or not you should call us to schedule a consultation or read on to learn more about the benefits of dental implants in Chesterfield, MO.
Dental Implants Look and Feel Like Natural Teeth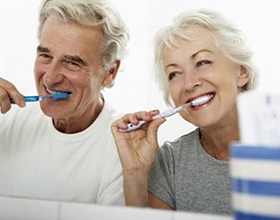 The restorations that dental implants support are all custom-designed in order to resemble real teeth as closely as possible. Most people won't even realize you had dental work done in the first place. But implants don't just look natural; they also feel like part of your mouth once they fully integrate with the bone. They also have nearly the same chewing power as real teeth, meaning you can eat the same way you normally would. You'll also be able to maintain a normal brushing and flossing routine.
Dental Implants Last for Decades
While you can extend the lifespan of a dental bridge or dentures with good oral care, you can usually expect them to last only about 10 years or so. Dental implants, by comparison, have a much longer lifespan of 30 years or more. In fact, it's completely possible for them to last the rest of your life with proper maintenance. This is due to the fact that implants are made out of titanium, which is not only highly durable, but also bio-compatible, meaning it won't be rejected by the body.
Dental Implants Prevent Bone Loss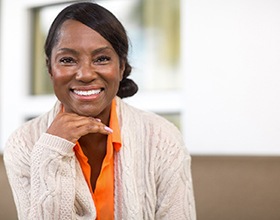 Once a tooth is gone, the underlying bone will start to break down because the body has determined that it is no longer needed. As much as a quarter of the bone's total volume can be lost within just one year of missing a tooth, and the issue will only grow worse with time. But with a dental implant, you can reverse this process. Implants act as new roots that can stimulate the bone and encourage the growth of new tissue, thus maintaining a healthy level of bone density.
Dental Implants Improve the Stability of Nearby Teeth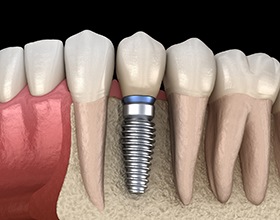 When there's an excessive amount of empty space in your mouth, the remaining teeth will start to shift towards the gap, leaving their original position and throwing off the balance of your bite. This can severely affect your ability to chew normally, and it could complicate future attempts to replace the teeth. When an implant is properly placed and topped with a well-designed restoration, it will completely fill the empty space and stop dental drift from occurring in the first place.